New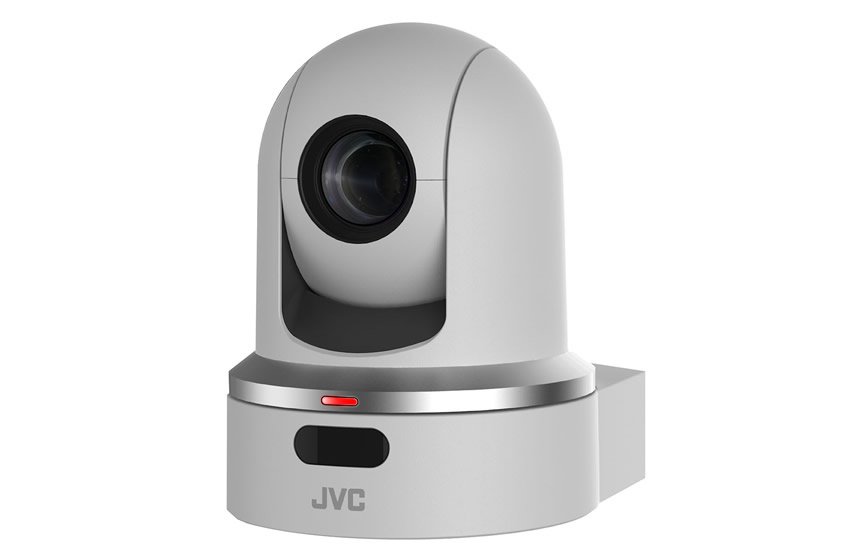 KY-PZ100WEBC
Special Price 2913.15€ +VAT
Not in stock
Quick Overview
Compact PTZ Remote Camera
Full HD 1080 50/60P
Live Streaming - Graphics Overlay
CMOS 1/3" 2.13MP
30.5-915mm 30X
MicroSD Card for internal recording
HDMI & 3G/SD-SDI Outputs
S/N: 50dB
KY-PZ100WEBC
The camcorder features JVC's latest IP communications engine, giving you remote control and monitoring of vital camera and lens functions from a tablet, smartphone, or computer anywhere in the world. Live streaming is possible in HD or SD resolutions, depending on available bandwidth. Connect your camera to an optional Wi-Fi or 4G/LTE modem and share your programme with an audience anywhere in the world via content delivery networks such as YouTube, Facebook Live, and other cloud services.

Broadcast Info Overlay
Saves overlay info at every preset position (up to 10)
Broadcaster logos, "Live" mark, watermark, time and temperature can be overlaid.
Full-Screen Graphics Overlay and Slide Show
Up to 50 full-screen (max. 23MB) custom graphics
Various language characters supported with provided software SDP Generator.
Selectable pre-loaded logos.
3G-SDI and HDMI digital outputs
Optical zoom lens with 30x zoom ratio (4.3-129mm, f/1.6~4.7)
Robotic pan, tilt and zoom
Full HD 1080p, 1080i, 720p video
1/2.8-inch CMOS sensor (2.2 million pixels)
2 channels audio (or 1 channel balanced audio w/phantom power)
USB host connection for WiFi or 4G LTE adapter
Can memorize 100 preset settings and positions
IR controller
Can be mounted upside-down or right-side-up
Remote control via RS-232C / RS-422, or via IP controller
Micro SDHC/SDXC memory card recording
LAN connector supports Power over Ethernet
Advanced IP communications capability:Streaming with SMPTE 2022 forward error correction. Advanced Zixi reliable communication with ARQ, FEC and adaptive bitrate control. Low latency streaming. RTMP streaming directly to content delivery network (YouTube, Ustream, etc.)

PRODUCT HIGHLIGHTS
Versatile IP Connectivity including Wi-Fi* and 4G/LTE*
The KY-PZ100 is the PTZ camera that features JVC's unique IP communications engine providing network
connection via Wi-Fi*, 4G/LTE*, or wired LAN. *optional adapters.
RTMP for Direct Streaming to Content Delivery Network. RTMP protocol support enables direct streaming to JVC VIDEOCLOUD, Ustream, YouTube, Facebook, etc. Other various protocols and bit rates are supported for a variety of usages.
Multiple Protocols, RTP,ZIXI,UDP etc. also Multicast Streaming possible.
0.02 lx of Minimum Illumination for Precise Color Reproduction
In High-Sensitivity mode, minimum illumination is 0.02 lx. Superior color reproduction is ensured even at low light. The Night Mode is also available for even darker environments (0.003 lx of minimum illumination).
Direct Drive Mechanism for Accurate and Quiet Pan/Tilt. The KY-PZ100 incorporates JVC's Direct Drive Motor that offers precise, highly responsive pan/tilt and silent movement compare to the normal stepping motor mechanism.
Super Fast Pan/Tilt of max. 480°/sec*. With maximum 480°/sec*. movement offers the scene transition sharply.
Super Slow Pan/Tilt of min. 0.1°/sec. Extremely slow movement of 0.1°/sec. offers a good look at the scene even at high zoom rates.
Extremely Silent Operation
Operating noise of Direct Drive is approx. 20% lower than normal stepping motor system, which is especially suitable for the usage of classic concert, church and so on.
High Accuracy of +/-0.03° for Preset Positions
Adjusts to preset positions with high accuracy, offset less than 0.03°. Maintains precise shooting positions even at high magnification with virtually no deviation.
Powerful 30x Optical Zoom. Equipped with 30x optical zoom, the KY-PZ100 is capable of capturing distant subjects. Even in a grand hall or auditorium,the speaker's expressions and handwriting on a board will be clearly captured. 12x digital zoom is also available.
Simultaneous Output of 3G-SDI and HDMI in addition to IP Simultaneous digital output capability, with up to1920x1080/60p video through 3G-SDI/HDMI/IP, makes the KY-PZ100 ideal for webcasting as well as viewing and recording of conferences, lectures, and other live events.
The KY-PZ100 features a built-in digital recorder that records HD from 5Mbps to 50Mbps directly to microSDHC/microSDXC card. Recordings can be uploaded from the camera to an external server.
100 Preset Positions and Settings. Up to 100 points of PTZ positions and other settings such as focus and white balance can be memorized on the camera.
PoE+ for Simple and Flexible Installation. You can reduce installation cost with the KY-PZ100 that supports PoE+ (Power-over-Ethernet), which is capable of carrying IP video, audio control and power over a single connection cable.
KY-PZ100WEBC
STATUS

Camera Type

Studio Camera


Compact Camera


HD Camera


Status

VIDEO SPECIFICATIONS

Video Format

MPEG4/H.264 up to 50Mbps - 4:2:2/8bit - MOV files


Video Resolution

HD 720: 1280x720pixels(16:9 aspect ratio)


HD 1080: 1920x1080pixels(16:9 aspect ratio)


Slow Motion

Quick Motion - Time Lapse

Frame Rate

25P/30P/50i/50P/60i/60P @1920x1080Pixel
25P/30P/50P/60P @1280x720Pixel
640x360Pixel, 320x180Pixel in Live streaming only.


Rec Media

Micro SD/SD-HC/SD-XC Card


Rec Time

267min @28Mbps with 64GB REC-Media


213min @35Mbps with 64GB REC-Media


148min @50Mbps with 64GB REC-Media


Pre Record

LENS SYSTEM

Sensor Type

Sensor Size

Sensor Resolution

Lens Type

Lens Manufacturer

Focal Length

30.5mm to 915mm (35mm equivalent)


Zoom

Aperture

Zoom out: F1.6 to F11
Zoom in: F4.7 to F32


Control Rings

Auto Focus

Image Stabilizer

ND Filters

CONNECTIONS

Video outputs

Audio inputs

Audio outputs

2CH Embedded Audio SDI


2CH Embedded Audio HDMI


PC Connections

USB2.0 Host


RS-232


Ethernet RJ-45


WiFi


GENERAL FEATURES

Pan/Tilt Operation

Pan/Tilt Speed

Pan: Max 480°/s
Tilt: Max 300°/s


Pan Range

Tilt Range

Shutter speed

Video S/N

Min. Illumination

Live Streaming

FTP Transfer

MORE SPECIFICATIONS

Extras

Live Streaming through Ethernet, 3G/4G or WiFi.
Broadcast Graphics Overlay.
Saves up to 10 Broadcaster logos.
"Live" mark, watermark, time and temperature can be overlaid.
Full-Screen Graphics Overlay and Slide Show.


Power

Power Consumption

Warranty

Country of Origin

PHYSICAL

Total Weight (KG)

Total Dimensions (WxHxD) (mm)

Availability
KY-PZ100WEBC
Direct ceiling mount bracket
Screws (M3)
Screws (M2.6)
Wireless remote control
AC adapter
Fall prevention wire
Template
Instruction manual
KY-PZ100WEBC
Brochure

JVC_KY-PZ100_Brochure.pdf
Operation Manual

JVC_KY-PZ100_Manual.pdf
General Features