New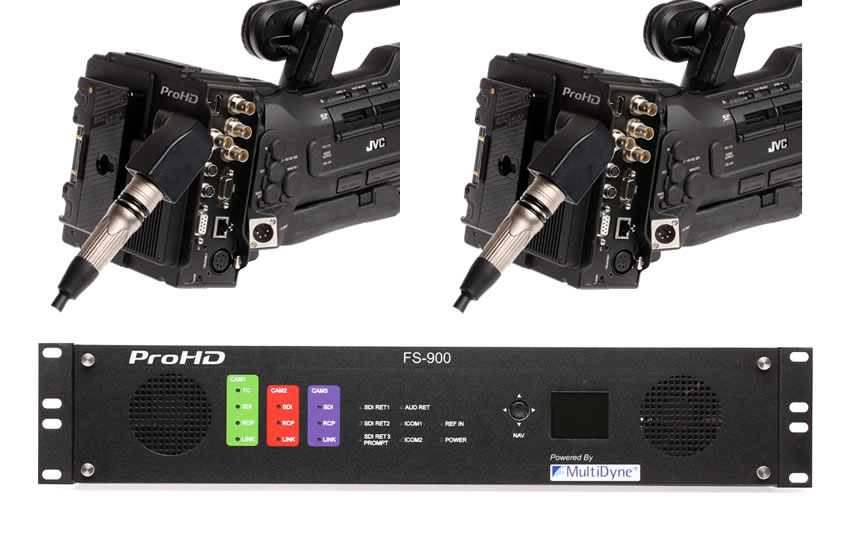 FS-900-2
Special Price 27310.88€ +VAT
Not in stock
Quick Overview
Fiber Studio System Kit
For 2x JVC Studio Cameras
Ideal for HC900 and HM890
HD 1080 50/60P 3G-SDI
Includes Camera adapters and CCU
Hybrid fiber system with power
Intercom RTS/Clear-com support
Tally support
FS-900-2
The FS-900 is a new camera mounted Fiber optic system designed for JVC's GY-HM890 and GY-HC900 camcorders. Built exclusively for JVC by MultiDyne® Video & Fiber-Optic Systems, the system supports 3G-SDI 1080p/60 camera feeds and returns, and takes advantage of the camera's built-in streaming engine for video-over-IP functionality.

The camera module connects directly to the back of GY-HM890 or GY-HC900 camcorder via 68-pin interface—no external cables required—for full studio functionality. It transports multiple bi-directional 3G-SDI signals as well as control, audio, sync, and intercom between the camera and the FS-900 Base Station.

Up to three cameras are supported by the Base Station, and its redundant power supplies provide up to 150 watts for each camera, as well as prompters and talent monitors. Its three-in-one configuration provides a more cost efficient solution than other multi-camera solutions previously offered by JVC and other manufacturers.

With built-in gigabit Ethernet, the lightweight, 2 RU Base Station also allows video-over-IP, control and advanced configuration. The high quality 1080p video signals are ideal for webcasts, virtual sets, and image magnification (I-MAG) applications. The system integrates easily with any studio, mobile truck, or portable flypack, and connects directly with a facility's switcher, router, intercom, and house sync systems.

KEY FEATURES

Cost-efficient 2 or 3 camera studio configuration with single base station.
Supports 1080 50/60p 3G-SDI camera feed and returns.
Camera adapter design allows to use VF-HP790 or generic SDI monitors as studio VF.
HDMI / SDI feeds for high-quality HD teleprompters.
Gigabit Ethernet for Video-over-IP and web-based RCU.
Dual redundant power supplies.
FS-900-2
STATUS

Status

Converter Type

CONNECTIONS

Video inputs

Video outputs

Audio inputs

5-PIN XLR MIC/PHONES Talkback


DB-25 intercom connector


Audio Output

Power inputs

PC Connections

GPI


Ethernet RJ-45


SMPTE Hybrid Fiber Optic with SMPTE 304 connector (Male)


SMPTE Hybrid Fiber Optic with SMPTE 304 connector (Female)


Other Connections

Genlock input (BNC)


Genlock output (BNC)


RCU Connector


Tally 25-pin


GENERAL FEATURES

Resolution Supported

SD 480i NTSC


SD 576i PAL


HD 720: 1280x720pixels(16:9 aspect ratio)


HD 1080: 1440x1080pixels(4:3 aspect ratio)


HD 1080: 1920x1080pixels(16:9 aspect ratio)


Frames Supported

24P/25P/30P/50P/50i/60P/60i @1920x1080Pixel.
50i/60i @1440x1080Pixel.
50P/60P @1280x720Pixel.
50i @720x576Pixel.
60i @720x480Pixel.


MORE SPECIFICATIONS

Extras

150W per camera for prompter, talent monitor, clock etc.
Redundant power supplies.
With built-in gigabit Ethernet allows video-over-IP, control and advanced configuration.
2-wire or 4-wire Clearcom/RTS intercom support.
9pin RCP connectors.


Power

V-Lock Type Battery


G-Lock Type Battery


AC 220V


No. of battery slots

Warranty

Country of Origin

PHYSICAL

Total Weight (KG)

Weight in Detail

The Camera adapter weights about 2KG


Total Dimensions (WxHxD) (mm)

Dimensions in Detail

Base unit: 482x88x406mm.
Camera adapter: 170x208x106mm.


Availability

Usually in 15working days

FS-900-2
CCU for 2 cameras
2x Fiber camera adapters
FS-900-2
Brochure

JVC_FS900_Brochure.pdf