New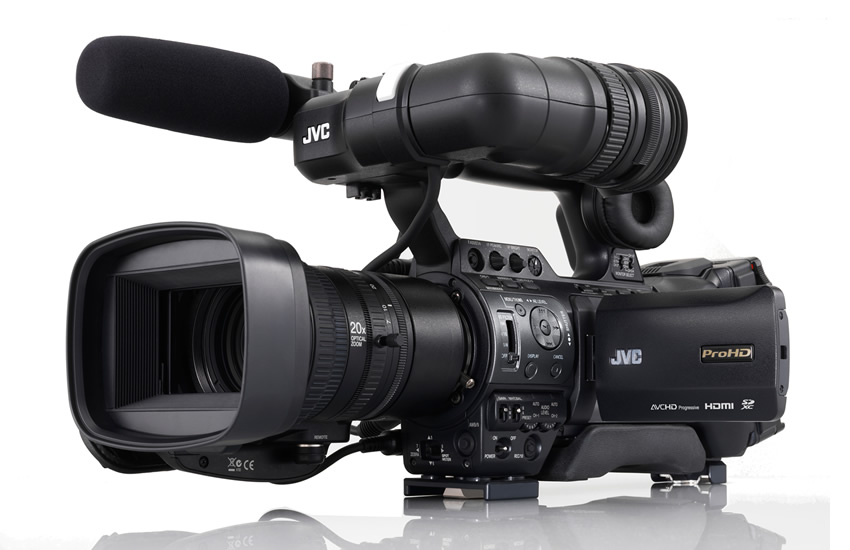 GY-HM890E
Special Price 7462.73€ +VAT
Not in stock
Quick Overview
Shoulder STUDIO Camera
AVCHD 28Mbps/MPEG2 HD/H.264 50Mbps
3CMOS 1/3" 2.2MP
29-580mm 20X
0.15LUX - F12
ZiXi Streaming Codec
3G/HD/SD-SDI & HDMI Output
Multi 26pin/Fiber Studio Components
GY-HM890E
Be first on-air and first on-line with JVC's new GY-HM890E. This advanced 3-CMOS camera delivers pristine HD images to solid state memory while streaming via Wi-Fi or a plug-in GSM adapter. It features an interchangeable 20x Fujinon auto-focus lens, 4 channels of audio, dual memory card recording at up to 50 Mbps, an external HD-SDI pool feed input, together with a full complement of fibre and multicore studio options. It's the most feature-rich HD camera JVC has ever offered.
Main features
1/3-inch 12-bit CMOS sensors (1920 x 1080 x 3)
F12 sensitivity
Compact shoulder design with interchangeable lens options
Fujinon 20x optical zoom lens with AF/OIS included
Dual SDHC/SDXC memory card recording (HD+HD, HD+SD, HD+web, etc.)
Multiple file formats for native workflows: XDCAM EX™ (.mp4), Final Cut (.mov), AS-10 (.mxf), AVCHD (.mts), H.264 (.mov)
Virtually lossless H.264 50Mbps recording
4-position ND filter (Clear, 1/4, 1/16, 1/64)
0.45-inch LCOS viewfinder
High-resolution 4.3-inch LCD monitor
Histogram display and expanded focus functions
Focus assist function
12 assignable user buttons
Variable frame rate recording (over-cranking, under-cranking)
Wired remote control operation
Genlock input and TC input/output
4-channel audio system
HD/SD-SDI external input for recording and streaming (pool feed)
Full complement of Fiber or Multicore studio accessories
Advanced communications capabilities
Secure FTP file transfer from shooting location
Tablet or smartphone camera control and monitoring
Metadata editing via network
Advanced streaming and cloud services
- Delivers reliable HD streams without a backpack or microwave link
- Single modem (unbonded) plugs directly into camera
- Camera processor optimises stream bandwidth
- Advanced content-aware error correction (up to 30% packet loss)
- Stream and signal status in viewfinder
- Compatible with advanced streaming services, powered by Zixi, for reliable live content delivery
Modular Design
The GY-HM890 is equipped with multi-pin interface that allows various modules to be attached to the unit without external cabling. The KA-M790 multi-core studio interface module offers a 26-pin interface compatible with cables from JVC and Sony to connect with a camera control unit (CCU.) Power, camera control, intercom, tally and a fully digital HD signal path are available through the RM-HP790 CCU. Other modules include the KA-F790 Remote Fibre Adapter and the KA-AS790 ASI Module. In a studio configuration, the GY-HM890 is easily fitted with the KA-790 sled, a sleek and functional housing that supports a studio viewfinder, teleprompter and large lens if desired. JVC's VF-HP790G is an 8.4-inch high resolution LCD viewfinder with a digital interface to the camera.
High Performance Full HD 1/3-inch CMOS Sensors
At the heart of the GY-HM890 are three 1/3-inch 2.07 effective-megapixel CMOS sensors, each capable of capturing full HD 1920 x 1080 resolution images. Featuring 12 bit read-out, an excellent sensitivity of F12 (50Hz) and a remarkable signal-to-noise ratio, the devices provide superior precision and color reproduction with minimal aberration. For improved CMOS sensor performance, flash-band compensation is also supported.
Newly-developed 20x Fujinon Auto Focus Zoom Lens with Manual Functions
The GY-HM890 is equipped with a newly-developed Fujinon wide-angle 20x zoom lens offering one of the highest magnifications in the industry. For superior low-light performance and assured brightness at the tele end, the lens offers F1.6-3.0, a focal range of 29mm-580mm (35mm equivalent) and includes servo zoom, along with manual focus and iris rings. Optical image stabilizer and chromatic aberration correction are also built into this interchangeable 1/3-inch bayonet mount lens. The built-in Optical Image Stabilizer (OIS) helps to correct lateral and vertical movement of the camera, ensuring that pristine HD images remain sharp and stable. For users who prefer a manual lens, JVC offers a wide range of Fujinon and Canon lenses compatible with this camera.
Outstanding sensitivity, LoLux™ function
The GY-HM890 produces outstanding images under a wide range of lighting conditions. Minimum illumination is less than 1 lux: 0.15lx (typical)*. JVC's exclusive LoLux feature permits shooting in adverse lighting conditions. LoLux can be assigned to a USER button, and set in the menu to offer +30dB or +36dB of gain. A convenient gain switch provides default gain values of -6dB, 0dB, +9dB. These switch positions can be adjusted to various gain amounts from -6dB to +24dB. An ALC mode is also available to boost gain values from +6dB to +24dB. Standard sensitivity of the GY-HM850 is measured at F12@2,000 lux.
*(1920 x 1080 mode, F1.6, Lolux mode, 1/30 or 1/25 shutter
Revolutionary FALCONBRID™ Dual Codec Image Processing Engine
FALCONBRID™ is JVC's high-speed processor for advanced video applications. Delivering tremendous processing power on a single chip, the on-board FALCONBRID™ engine processes large amounts of video data at exceptional speeds. Together with this technology, superior image quality has been realised with 2D DNR processing and compensation circuitry for wide dynamic range. The GY-HM890 utilises dual codec FALCONBRID™ processors that make it possible to record full HD to a memory card, and stream live video to the web simultaneously. The camera is also capable of recording to two memory cards in two resolutions, one in full HD and one in SD, or to a smaller web-friendly file. Depending on connection speed, the smaller files can often be transferred faster than real time for delivery to websites or file-sharing services.
MPEG-2 and AVCHD Recording
The GY-HM890 supports both the popular MPEG-2 Long GOP 35/25/19Mbps format, widely used by television broadcasters, and the highly efficient AVCHD format, which provides compatibility with most affordable editing systems. This means that professionals have unprecedented flexibility to meet production standards through a wide range of workflows. With the revolutionary dual codec, the GY-HM890 also supports simultaneous HD/SD or HD/proxy recording. Also supported is the MPEG-4/AVC H.264 1.2 Mbps SD format.
Ultra and Extreme High Quality Recording Modes
The GY-HM890 is also equipped with the H.264 Extreme High Quality (XHQ) 50Mbps mode for virtually lossless compression, even when recording fast moving objects. MPEG-4 AVC/H.264 offers approximately twice the compression efficiency of MPEG2. Its superior motion prediction ensures a smooth and detailed picture with virtually no block noise in rapid action sequences. The XHQ mode is available when recording 1920 x 1080 at 50p, 50i, 30p and 24p. The GY-HM890 further provides the H.264 Ultra High Quality (UHQ) 35Mbps recording mode, again offering superior image quality but with smaller file sizes.
Multiple File Formats for Native Workflows
Record HD or SD footage directly in ready-to-edit QuickTime™ MOV files, the native file format of Apple's Final Cut Pro™. Native file recording ensures your footage is ready to edit the moment it's shot, resulting in a more efficient workflow and no loss of image quality. For direct editing in other major NLE systems such as Avid Media Composer, Adobe Premiere and Grass Valley Edius Pro, it is also possible to record XDCAM EX™ compatible MP4 files for a likewise seamless native workflow.
*H.264 SD MOV file can be edited by Grass Valley Edius Pro
Support for MXF Files with Rich Metadata
A highly efficient file-based workflow is essential to any modern news organization. To ensure file interoperability with the widest range of broadcast production tools, JVC has worked with the Advanced Media Workflow Association (AMWA) on its "AS-10: MXF for Production," establishing a common MXF file format for an end-to-end news production workflow. MXF files are embedded with rich descriptive metadata that is added before, during or after shooting. The AS-10 MXF format builds on the SMPTE RDD 9, the MXF interoperability specification of Sony MPEG Long GOP Products (XDCAM HD.)
Dual SDHC/SDXC Card Slots for Maximum Versatility
Dual SDHC/SDXC card slots make the GY-HM850 a truly versatile camcorder, offering such benefits as simultaneous recording and relay recording with reliable and cost-effective media. In relay recording mode, you can shoot continuously and seamlessly over multiple cards. When one card is full, the camcorder switches seamlessly and automatically to the other card. And because cards are hot swappable, there is in effect no limit to the continuous shooting time in any mode, even with lower capacity cards.
It is possible to start editing footage from one card while still shooting to the other. With simultaneous recording, you can easily create backup or duplicate files as you shoot without the need for any external equipment—either for a client copy or simply for peace of mind. Additionally, while the Rec trigger is used to pause and unpause recording on one card, the other card can act as a continuous backup that overrides the pause function.
SDHC/SDXC media offers the best combination of price, availability, capacity, reliability and transfer speed. With no moving parts and no pins or other extrusions, SDHC/SDXC cards are both durable and reliable, and compare favorably with tape on a cost-per-minute basis.
* During simultaneous backup recording in HD mode, the duplicate file records in the same file format and bit rate as the original. Backup recording is not available in AVCHD mode.
Network Connectivity for Next-Level Functionality
The GY-HM890 is equipped with a USB 2.0 host connector that supports an optional wired or wireless (Wi-Fi) network adapter, or a broadband 3G/4G USB Stick. Through connection to a LAN, WAN or internet, various wireless communications functions are available:
Wireless remote control (with remote viewing) using smartphone, tablet or PC
Metadata import and editing
Secure FTP file (clip) uploading
Simple streaming (UDP or TCP) to single IP address
Advanced streaming with ARQ/FEC to cloud or physical server
Wireless remote control
A built-in web interface, allows remote viewing of camera images and wireless remote control when using a smartphone, tablet or PC. Extensive camera control includes:
Full Auto (on/off)
AE Level (setting)
Iris (manual/auto)
Gain (ALC, dB setting, LoLux)
Shutter (OFF, manual setting, EEI)
White balance (Preset, A, B, FAW)
White paint
Zoom (with Fujinon 20x)
Focus (auto, manual, setting) (with Fujinon 20X)
Focus assist
Optical Image Stabilizer
LoLux
Zebra
Clip review
AE Lock
Markers
Various camera menus
Simultaneous live viewing and remote control allow quick image adjustments and zoom in/out control (when using the 20X Fujinon lens.) Zoom presets may also be registered and deleted remotely using the web browser. Recording and live streaming are also triggered remotely.
Secure File Transfer Protocol (FTP) built-in
FTP is a standard network protocol used to transfer recorded clips from the camera to a remote file server, or "cloud." Settings for up to four FTP servers are stored in the camera. Any of the video clips may be transferred individually or in batch mode. Transfer time is determined by the connection speed to the network or internet and by the size of the file(s) to be transferred. For example, a 30 second HD clip recorded at 720p/19Mbps may be transferred in about two minutes using a 4G connection assuming an average upload speed of 5 Mbps. If the clip is recorded in the "web friendly" proxy mode, it may only take a few seconds.
Unwanted information may be trimmed from clips with basic in-camera editing, creating shorter files for transfer. FTP transfers may be performed in the background, allowing the operator to continue shooting without interrupting the workflow. Secure FTP transfers using SFTP or FTPS protocols are possible.
Files watermarked with rich, descriptive metadata
As the GY-HM890 records live footage, metadata optimised for news production is added to the files and is carried throughout the entire workflow from NLE's to playout servers. Metadata may include TITLE (2 data fields), CREATOR, and DESCRIPTION (up to 2047 characters) as well as date, time and location from the camera's built-in GPS receiver.
Importing Metadata
You can download a metadata settings file (XML format) from a remote FTP server and store metadata inthe GY-HM890 for recording onto video clips in the MXF format. Once stored in the camera, metadata is then recorded into the MXF video clips, and will stay with the clips through postproduction, playout and archiving.
Adding Metadata
In addition to downloading, metadata is added in the field using a smartphone, tablet or PC via the camera's web interface. Again, the camera records this information to the MXF video clips.
Editing Metadata
Metadata on existing clips may be edited using a smartphone, tablet or PC. Using a web browser, the "Clip Metadata" screen displays a list of clips stored on the memory card with thumbnail images. Clip metadata can be edited and rewritten back to individual clips stored in the camera.
Advanced Streaming Technology
When the GY-HM890 is equipped with a high speed broadband modem, ENG crews now have a handy, economical means to deliver live field reports without the need for a microwave or satellite truck. Through its use of dual codecs, the camera offers live transmission (streaming) while simultaneously recording HD to a memory card. Transmission at selected resolutions and bitrates is possible independent of the recording mode. The GY-HM890 offers a range of streaming options from basic point-to-point to cloud streaming with advanced error correction.
Basic streaming
The GY-HM890 outputs a transport stream with TCP or UDP protocol to a decoder or computer with a fixed IP address at the receiving facility. Latency is minimal (usually under 2 seconds with UDP transmission.) Image quality is dependent on the speed/mode selected. With a good GSM, Wi-Fi, or wired connection, additional error correction may not be necessary making this the easiest and most economical streaming solution. Streams may also be "pulled" from the camera using Real-time Transport Protocol (RTP) or Real-time Streaming Protocol (RTSP).
Advanced streaming with ARQ and Forward Error Correction
JVC's advanced streaming technology, powered by Zixi, utilizes content-aware error correction algorithms to compensate for packet loss common with mobile internet connections. In this mode, the decoder performs a dynamic assessment of the link capacity (link monitoring) and signals the camera to adjust bandwith and, if necessary, resend packets. The advanced error correction is able to compensate for up to 30% packet loss assuring a reliable stream even under adverse conditions. A Zixi-enabled decoder or server is required at the receiving end.
Compact Shoulder Form Factor
Weighing only 10.6 lbs including lens, viewfinder, microphone and battery, the GY-HM890 rests comfortably on the right shoulder providing stable, steady shots. Unlike some oversized hand held models, the GY-HM890 becomes part of the shooter similar larger cameras but without the fatigue associated with them. The handle has been designed for better carrying balance, and to accommodate wearing gloves in cold weather.
High resolution LCOS viewfinder
The GY-HM890 is equipped with a high-resolution (852 x 480 x 3) LCOS (Liquid Crystal On Silicon) 0.45" viewfinder. The 16:9 image is crisper and more detailed than conventional LCD viewfinders, with higher vertical resolution and superior RGB color separation. Its sturdy reinforced die-cast aluminum chassis and LED light source ensure years of trouble-free operation. The viewfinder's native aspect ratio is 16:9. Safe area indications are available for popular aspect ratios including 2.35:1. In the record mode, audio level indications, battery remaining "fuel gauge" (when using digital batteries) and estimated time remaining for each memory card are displayed in the viewfinder. The Zebra function offers 2 patterns (selectable.)
Large 4.3-inch flip-out LCD panel
Complementing the high resolution viewfinder is a large LCD flip out monitor that can be used in recording, playback, clip management, and menu operation. The 4.3-inch 800 x 480 WVGA LCD offers a 16:9 aspect ratio and provides a wide array of monitoring and setup indications. It is specially designed to reduce surface reflections and glare to maintain a clear, visible, bright view during outdoor recording. Menu items are easily selected using user-friendly setting cross keys.
Cross-key control makes menu navigation a breeze. The interface is very intuitive, with up down/left-right buttons on the same control disk. Selections are made by pressing the center of the disk. When in the camera mode, a blue LED lamp outlines the disk. When in the media playback/management mode, the color changes to green.
Extensive image customization is available. Thanks to the oversize monitor screen, the user see changes to the image as the setting is being made, eliminating guesswork. Frequently used settings may include skin tone detail, color matrix, gamma, knee, black toe, compress, stretch, detail, safety zone and others. Individual user settings are stored on an SDHC card and may be restored to any GY-HM850 or GY-HM890 camera.
Built-in Clip View & Management Functions
When the camera is switched to the playback mode, a clip viewer appears on the large LCD monitor and in the VF. (This signal may also be output through the HD/SD SDI connector.) Clips are identified by time code and with a user defined filename with numeric increments.
Detailed information is displayed about each clip including recording format, resolution, and time code start/stop, user bits, and creation date/time. Clips can be protected from accidental deletion or deleted if no longer needed. Damaged clips (due to improper eject, etc.) may be repaired with the "restore file" function. Though no special formatting is required, memory cards can be re-initialized in the GY-HM850 to an empty state even while the other card is recording.
The Quick Review function is available in the record-pause mode and allows the videographer to play back the first 5 seconds or the last 5 seconds of each clip, or the entire clip. After playback, the last image is retained (freeze) until the menu is reactivated. If during Quick Review, the record trigger is pressed, playback stops and recording begins immediately.
Spot Exposure Meter
When shooting very high contrast scenes, the Spot Meter can be a very useful tool, letting the videographer monitor the dynamic range of an image on the LCD/VF and adjust the exposure of an object in the frame. There are 4 modes of spot metering: Max/Min, Max, Min, and Manual. In the Max/Min mode, the highest and lowest levels of the image are identified with color markers, red (H) and white (L), along with the video level (before knee & gamma). The same values can be obtained individually with the Max and Min settings. Manual lets the videographer set the portion of the image to monitor. For example, in a scene with varied illumination, the videographer may wish to meter an individual's face, and set the exposure accordingly. As the scene changes, the exposure can be corrected precisely to the desired subject.
4-Channel Audio System
The GY-HM890 is equipped with two XLR audio inputs that are switchable between microphone (with phantom power support) and line input, plus stereo AUX inputs. The audio from each of these inputs can be assigned to an independent channel, enabling commentary or narration to be added in the field. Versatile input switching and independent channel assignment allow both mic and line-level sources (such as wireless receivers) to be connected, and phantom power is available on each XLR connector independently. Audio recording levels are controlled automatically or manually, with an audio level meter in the viewfinder and LCD monitor for easy monitoring.
Patented "FOCUS ASSIST" function
Achieving exact focus with HD signals is critical. JVC's Focus Assist turns focusing into a fast, easy and accurate process. When Focus Assist is activated, the picture in the viewfinder becomes monochrome and all objects which are in focus take on a colored edge. Focus Assist works equally in the viewfinder as well as on the LCD panel. The Focus Assist function can be invoked by pressing the dedicated button on the control panel, or assigned to the RETURN button on the lens.
Simultaneous HD/SD-SDI, HDMI Output
For live broadcast applications, or for monitoring, the GY-HM890 provides an uncompressed, 4:2:2 full HD or downconverted SD signal via its HD/SD SDI connector. An HDMI connector outputs the same signal as the HD-SDI connector, especially useful for monitoring while shooting a live event. The HDMI output may be switched to RGB mode when monitoring via computer. The signal can come from either the camera or from memory playback. When downconverted, the video may be in either PAL or NTSC depending on the HD mode selected: 60Hz (23.98p, 29.97p, 59.94p/i) = NTSC, 50Hz (25p, 50p/i) = PAL. When 23.98p modes are selected, it will contain Varicam™ flags (720p24 mode only) to facilitate post production. The HD/SD SDI output is via a BNC connector and includes embedded uncompressed audio. It is also possible to output the menus and clip viewer via the HD/SD SDI output.
HD/SD-SDI Input (Digital Pool feed)
Digital audio and video signals from another camera or other SDI source can be recorded or streamed by the GY-HM890 thanks to its HD/SD-SDI pool feed input. This is especially useful at press conferences and other venues where the number of cameras allowed is limited. When recording from the SDI input, analog audio inputs are disabled.
Genlock Input and Time Code In/Out
For multi-camera productions, the GY-HM890 provides a genlock input and TC input/output. Time codes can be preset from within the GY-HM850's menu, or can be input from an external time code generator, useful in isocam recording applications. The GY-HM890 can also be used as a master TC generator, providing a time code output for other cameras or audio recorders to synchronize to. When using the KA-F790 fiber transceiver, external time code may be provided from a master generator at the base station and becomes available through the camera's time code output as well as for iso recording onto SDHC cards.
KA-790 Studio Sled
KA-790 is a mechanical adapter for studio use for GY-HM890 and KA-M790. It supports the VF-HP790 LCD studio viewfinder on the top and stabilizes the entire system including an optional teleprompter. A hinged side panel makes it easy to remove the camera for shoulder use.
VF-HP790 LCD Studio Viewfinder
The VF-HP790 is an 8.4-inch XGA (1024x768 pixels) LCD studio viewfinder compatible with GY-HM890. Designed to mount to the KA-790 Studio Sled, it is equipped with a large tally indicator and screen hood. A fully digital interface provides all of the camera's viewfinder indications: safety markers, focus assist, power and clip management. The VF-HP790 is also provided with an HDSDI input for monitoring an external signal.
KA-M790 Multi-core studio interface unit
The KA-M790 is a small and compact interface unit that enables Studio/EFP operation.
Pre Rec (Retro Cache) Start Mode
How many times have you missed a crucial moment because you didn't hit the record button in time? In this mode, the GY-HM850U continually records up to 10 seconds in cache memory. When the trigger is pressed, the live signal is appended to the cache recording, giving you a head start in getting the shot. This feature is invaluable in capturing breaking events when the shot would be lost before a traditional camera could begin recording.
Interval (time-lapse) Rec
This feature allows you to record single frames at set intervals, which can be used to shoot slow-moving scenes, such as sunsets or construction, or to capture time-lapse recordings such as the growing of plants.
Variable Frame Rate Recording (Over Crank, Under Crank)
Variable frame rate recording enables beautiful slow motion and quick motionimage recording such as over crank and under crank. Using different frame rate settings for recordingand playback, videos captured at normal speed are played back more smoothly than those inlow or high speed playback.
Supports two types of wired remote control units
In addition to JVC's original 6-pin remote terminal, the GY-HM890 is also equipped with a Φ2.5mm stereo jack remote control terminal for operating the camcorder remotely. LANC (Control-L) compatible devices may be used with this connector.
JVC ProHD Clip Manager
ProHD Clip Manager for both Mac and Windows makes it easy to manage MP4 clips on the GY-HM890's memory cards from your computer. With a few clicks of the mouse you can copy, move or delete clips, preview clip content, as well as view and edit clip metadata. A thumbnail view of all the clips in the current folder shows the content of each clip at a glance. Use the viewer to watch the whole clip, or change the clip's index frame used for the thumbnail. You can also manage folders to keep your clips organized, and check the remaining free space on a card. The latest version of ProHD Clip Manager offers an even greater level of NLE compatibility by enabling MP4 files to be converted to m2t, widely supported by non-linear editing systems.
ProHD Log and Transfer Plug-in
ProHD Log and Transfer Plug-in is a plug-in for Apple's Final Cut Pro™ that lets you drop MP4 files recorded on the GY-HM890 into the clip bin. With the plug-in installed, you can view thumbnails of the MP4 files on a memory card from the Log and Transfer screen of Final Cut Pro™. Simply drag and drop the thumbnails into the bin to automatically convert the clips to QuickTime™, ready for use.
GY-HM890E
STATUS

Status

Camera Type

Shoulder Camera


Studio Camera


HD Camera


CAMERAS-SXETIKA

Camera options

VIDEO SPECIFICATIONS

Video Format

AVCHD 2.0(MPEG4/H.264) up to 28Mbps - 4:2:0/8bit - M2TS files


XDCAM EX HD(MPEG2 HD MP@HL) 35Mbps - 4:2:0/8bit - MXF files


JVC XDCAM EX HD(MPEG2 HD MP@HL) 35Mbps - 4:2:0/8bit - MP4 files


JVC H.264 XHQ 50Mbps - 4:2:0/10bit - MOV Files


Video Resolution

SD 480i NTSC(16:9)


SD 576i PAL(16:9)


HD 720: 1280x720pixels(16:9 aspect ratio)


HD 1080: 1440x1080pixels(4:3 aspect ratio)


HD 1080: 1920x1080pixels(16:9 aspect ratio)


Slow Motion

Quick Motion - Time Lapse

Frame Rate

24P/25P/30P/50P/50i/60P/60i @1920x1080Pixel
50P/60P @1280x720Pixel
50i @720x576Pixel
60i @720x480Pixel
24P/25P @960x540Pixel
24P/25P @480x270Pixel


Rec Media

Simultaneous REC

Rec Time

267min @28Mbps with 64GB REC-Media


148min @50Mbps with 64GB REC-Media


Pre Record

LENS SYSTEM

Sensor Type

Sensor Size

Sensor Resolution

Lens Type

Lens Manufacturer

Focal Length

29mm to 580mm (35mm equivalent)


Zoom

Aperture

Zoom out: F1.6 to F11
Zoom in: F3.0 to F21


Control Rings

3 Rings(Zoom, Focus, Iris)


Auto Focus

Image Stabilizer

Filter Diameter

ND Filters

CONNECTIONS

Video inputs

Video outputs

3G/HD/SD-SDI (BNC)


HDMI


CVBS(BNC)


Audio inputs

Audio outputs

Jack 3.5mm Stereo


RCA Line


2CH Embedded Audio SDI


2CH Embedded Audio HDMI


PC Connections

Other Connections

Lanc input


TC IN (BNC)


TC OUT (BNC)


Genlock input (BNC)


RCU Connector


68pin Connector for Multi/Fiber Connection


WiFi Remote Control


GENERAL FEATURES

Shutter speed

Min. Illumination

Sensitivity

Live Streaming

FTP Transfer

LCD

Viewfinder

MORE SPECIFICATIONS

Power

V-Lock Type Battery


4pin XLR 12-16V


No. of battery slots

Power Consumption

Warranty

Country of Origin

PHYSICAL

Total Weight (KG)

Total Dimensions (WxHxD) (mm)

Availability
GY-HM890E
Lens Fujinon 20X
Microphone
CD-ROM
Instructions
GY-HM890E
Brochure

JVC_GY-HM850-890_Brochure.pdf
Operation Manual

JVC_GY-HM850-890_Manual.pdf
General Features

JVC GY-HM850/890 Review
JVC GY-HM850/890 Test Footage