New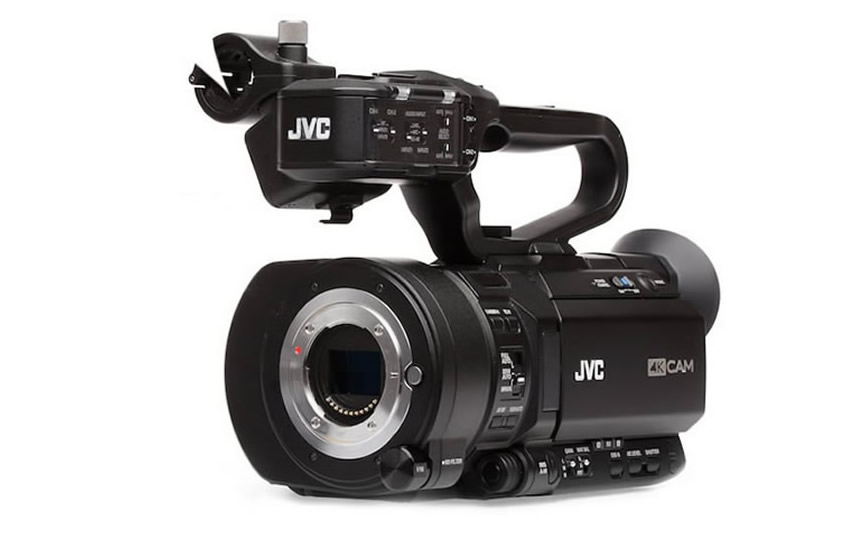 GY-LS300CHE
Special Price
Not in stock
Quick Overview
HD/4K Handheld Camera
Slow Motion & Streaming
4K 24P/25P/30P 150Mbps
3840x2160 50P/60P with Inferno
3840x2160 24P/25P/30P 4:2:2
Super-35 4K Sensor
MFT-Mount Lenses
HDMI 4K & SDI Outputs
XLR Inputs
GY-LS300CHE
Cinematic Excellence
The all new JVC GY-LS300 is a compact, ultra high definition, interchangeable lens camera with a 4K Super 35mm CMOS sensor. It uniquely accommodates a wide range of cinema and photographic lenses and adapters for dazzling cinematic effects. Create hours of pristine recordings on SDHC media in a variety of image formats including 4K Ultra HD, Full HD with 4:2:2 sampling, SD and web friendly proxy formats. Its dual codec design allows you to make 2 copies of your program simultaneously.

You can even stream live HD over the internet to content delivery networks such as USTREAM while recording full HD. Conventional DSLR cameras simply can't match the high reliability, long recording time and ergonomics provided by the GY-LS300. No other removable lens video camera offers this much flexibility in such a compact, easy-to-handle form factor.

Super 35mm CMOS 4K Image Sensor
The GY-LS300 features a JVCKENWOOD 4K CMOS Super 35mm image sensor uniquely combined with an industry standard Micro Four Thirds (MFT) lens mount. Super 35mm Cinema lenses may be used and will retain their native angle of view.*

Micro Four Thirds Lens Mount & Variable Scan Mapping
When the camera is used with MFT, Super 16 and other size lenses, JVC's proprietary Variable Scan Mapping feature will maintain the lens's native angle of view. This gives filmmakers the flexibility of using widely available MFT lenses as well as high end cinema lenses. The unique combination of the MFT mount, the larger S35 image sensor and Variable Scan Mapping give the camera nearly limitless lens options.

4K Ultra HD Recording at 150Mbps and Live Output
Working with 4K has never been easier! Insert an SDHC or SDXC (UHS-I Speed class 3) memory card and record hours of 4K Ultra HD (3840 x 2160) material. Recordings are made using the Quicktime (.MOV) file format and are compatible with many popular editing systems. Connect a 4K Ultra HD monitor with a single HDMI cable, and view the camera's live 4K signal. You can also play back recorded files directly from the camera.

4:2:2 Full HD Recording at 50Mbps
The ability to record 4:2:2 60p at 50 Mbps makes the GY-LS300 ideal for general HD production work. 50Mbps files are stored in the Quicktime (.MOV) format for easy editing. Conventional AVCHD (4:2:0) recording is also possible, providing wide editing compatibility in an array of standard HD and SD formats.

Live Streaming & FTP
The GY-LS300's built-in HD streaming engine with Wi-Fi and 4G LTE connectivity allows live HD transmission directly from the camera to your viewers while recording HD to one of the SDHC card slots. Streaming has never been easier now that you can deliver live HD to content delivery networks such as USTREAM and YouTube.
GY-LS300CHE
STATUS

Status

Camera Type

Handheld Camera


HD Camera


4K Camera


VIDEO SPECIFICATIONS

Video Format

AVCHD 2.0(MPEG4/H.264) up to 28Mbps - 4:2:0/8bit - M2TS files


MPEG4/H.264 up to 50Mbps - 4:2:2/8bit - MOV files


MPEG4/H.264 up to 150Mbps (4K/HD) - 4:2:0/8bit - MOV files


Video Resolution

SD 480i NTSC(16:9)


SD 576i PAL(16:9)


HD 720: 1280x720pixels(16:9 aspect ratio)


HD 1080: 1440x1080pixels(4:3 aspect ratio)


HD 1080: 1920x1080pixels(16:9 aspect ratio)


Slow Motion

Quick Motion - Time Lapse

Frame Rate

24P/25P/30P @3840x2160Pixel
24P/25P/30P/50i/50P/60i/60P/120P @1920x1080Pixel
50i/60i @1440x1080Pixel
50i @720x576Pixel
60i @720x480Pixel
Slow motion: 120P @1920x1080Pixel.
50P/60P @3840x2160Pixel only with inferno.


Rec Media

Simultaneous REC

Rec Time

267min @28Mbps with 64GB REC-Media


148min @50Mbps with 64GB REC-Media


49min @150Mbps with 64GB REC-Media


Pre Record

LENS SYSTEM

Sensor Type

Sensor Size

Super 35 (crop factor 1.51)


Sensor Resolution

Lens Type

Changeable 4/3" MFT Mount


ND Filters

CONNECTIONS

Video outputs

3G/HD/SD-SDI (BNC) 4:2:2


HDMI 4K


CVBS (Jack to RCA)


Audio inputs

3-PIN XLR MIC/LINE


Jack 3.5mm Stereo


Audio outputs

Jack 3.5mm Stereo


Jack to 2xRCA


2CH Embedded Audio SDI


2CH Embedded Audio HDMI


PC Connections

Other Connections

GENERAL FEATURES

Min. Illumination

Streaming

Web Live Streaming with internal engine


File Transfer

LCD

Viewfinder

MORE SPECIFICATIONS

Power

JVC SSL-JVC50 Type Battery


Power adapter


No. of battery slots

Warranty

Country of Origin

PHYSICAL

Total Weight (KG)

Total Dimensions (WxHxD) (mm)

Dimensions Details

Dimensions calculated without lens


Availability

Usually in 15working days

GY-LS300CHE
Camera
Battery 4900mAh
Upper Handle with XLR Connectors
Microphone
Wireless Remote Control
AC adaptor
JVC GY-LS300 Review
JVC GY-LS300 Test Footage
JVC GY-LS300 Test Footage 2