New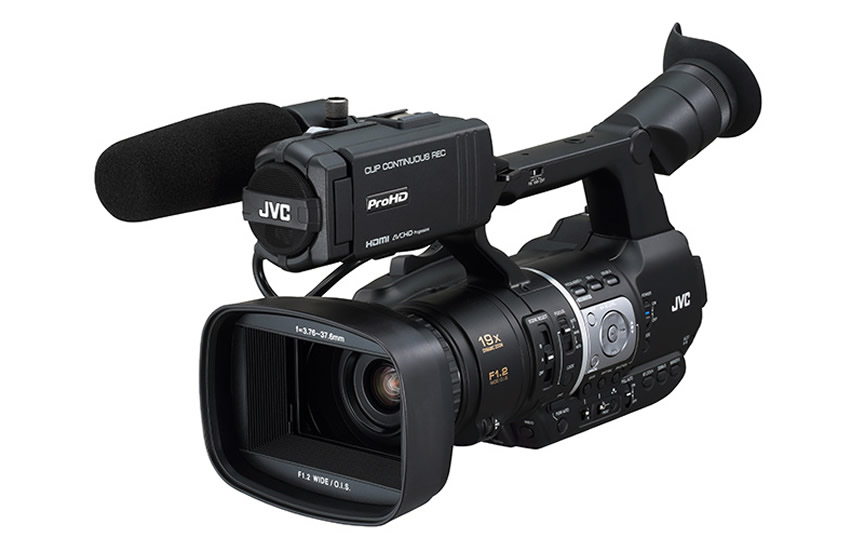 HM360 CMOS 1/2.3" 19X HD
Special Price
Not in stock
Quick Overview
Handheld Camera
AVCHD 28Mbps/H264 50Mbps
CMOS 1/2.3" 18.9MP
29.9-586mm 19X F1.2
1920x1080 50P/60P
2x SD-HC/SD-XC
HDMI/CVBS Outputs
2x XLR Inputs
HM360 CMOS 1/2.3" 19X HD
The JVC JY-HM360 handheld HD Memory camcorder with dual SDHC/SDXC card slots, light enough to take with you anywhere, ideal for use by wedding and event videographers. It features 1/2.3-inch 18.9 Megapixel back-illuminated CMOS sensor, when combined JVC's dynamic 19X F1.2 Bright GT lens, delivers high resolutions pictures, with excellent sensitivity and less noise even in low light environment. This makes it possible to record social functions or weddings without the need for additional lighting. The HD camcorder features JVC's original high-speed picture processing FALCONBRID™ engine. An array of popular codecs and file formats are supported including H.264 video format in 50Mbps (MOV) extreme high quality (XHQ) mode for virtually no block noise when capturing moving objects. The JY-HM360 ergonomically designed for quality performance with number of functions ideal for wedding filming, including Face Recognition Auto Focus, Optical image stabiliser and beautiful skin mode.

High-performance CMOS Sensor Combined with F1.2 Lens for High-sensitivity Shooting.
At the heart of the JY-HM360 is a 1/2.3-inch 18.9 M pixel back-illuminated CMOS sensor, which offers high resolution recordings. When combined with JVC's Dynamic 19x F1.2 Bright GT Lens, brilliant results with excellent sensitivity and less noise can be achieved even in low light environments. This way you can record events, social functions, or weddings without the need for additional lighting.

Professional Layout, Stylish Design and User-friendly Operations
As a handheld camcorder, the JY-HM360 is ergonomically designed to satisfy discerning videographers. For instance, 3 Rec Trigger button is convenient for any shooting scenes while Zoom Seesaw lever enables smooth zooming from very slow to high speed. The camera also features essential switches and buttons for shooting including white balance, iris, gain, and focus, which are located mainly on the left side panel, enabling intuitive controls to quickly change settings even while shooting. Up to 11 functions can be customized that are assigned to seven user buttons on the camera body and four on the LCD's cross-shaped buttons.

For higher level of shooting, image parameters such as gamma and color-matrix as well as other detail settings can be customized and stored in both the camera's internal memory and SDHC/SDXC card.

Optimum Shooting Mode with Flick of a Switch using Scene Select
As a wedding cameraman, you might use spot lighting to create more dramatic scenes. However, a sudden change in lighting requires quick adjustment of shooting modes. In such instances, the Scene Select function comes in handy as it enables selection of the optimum shooting mode with the flick of a switch. Position A and B in Scene Select can be assigned to specific scenes such as Indoor and Outdoor, both Indoors, or both Outdoors, each of which are assigned with five shooting modes. Using the menu displayed on the LCD and viewfinder. These modes can be set with values. Once set, you simply flick between A and B to achieve the optimum lighting for a scene.

Dual SD Card Slots for Maximum Failsafe Recording
Dual SDHC/SDXC card slots make the JY-HM360 a truly versatile camcorder, offering different recording modes with reliable and cost-effective media. Series (or relay) recording is for making long-hour seamless recording from card A to B and vice versa, Simultaneous (or dual) recording for creating 2 identical cards at same format, and Backup recording for creating 2 different recordings – while the REC trigger is used to REC and STOP recording on one card, the other card can act as a continuous backup that overrides the pause function.
HM360 CMOS 1/2.3" 19X HD
STATUS

Status

Camera Type

Handheld Camera


HD Camera


VIDEO SPECIFICATIONS

Video Format

AVCHD 2.0(MPEG4/H.264) up to 28Mbps - 4:2:0/8bit - M2TS files


JVC XDCAM EX HD(MPEG2 HD MP@HL) 35Mbps - 4:2:0/8bit - MP4 files


JVC XDCAM EX HD(MPEG2 HD MP@HL) 35Mbps - 4:2:0/8bit - MOV files


JVC H.264 XHQ 50Mbps - 4:2:0/10bit - MOV Files


Video Resolution

SD 576i PAL(16:9)


HD 720: 1280x720pixels(16:9 aspect ratio)


HD 1080: 1440x1080pixels(4:3 aspect ratio)


HD 1080: 1920x1080pixels(16:9 aspect ratio)


Slow Motion

Quick Motion - Time Lapse

Frame Rate

50i/50P/60i/60P @1920x1080Pixel
50i/60i @1440x1080Pixel
50P/60P @1280x720Pixel
50i @720x576Pixel


Rec Media

Simultaneous REC

Rec Time

267min @28Mbps with 64GB REC-Media


213min @35Mbps with 64GB REC-Media


148min @50Mbps with 64GB REC-Media


Pre Record

LENS SYSTEM

Sensor Type

Sensor Size

Sensor Resolution

Lens Type

Lens Manufacturer

Focal Length

29.9mm to 586mm (35mm equivalent)


Zoom

Aperture

Wide: F1.2 to F11
Tele: F2.8 to F21


Control Rings

Auto Focus

Image Stabilizer

Filter Diameter

ND Filters

CONNECTIONS

Video outputs

Audio inputs

Audio outputs

Jack 3.5mm Phones


Jack to 2xRCA


2CH Embedded Audio HDMI


PC Connections

Other Connections

GENERAL FEATURES

Shutter speed

Min. Illumination

Streaming

File Transfer

LCD

Viewfinder

MORE SPECIFICATIONS

Power

JVC SSL-JVC50 Type Battery


Power adapter


No. of battery slots

Power Consumption

6W(7.2V/0.83A - 12V/0.5A)


Warranty

Country of Origin

PHYSICAL

Total Weight (KG)

Total Dimensions (WxHxD) (mm)

Availability
HM360 CMOS 1/2.3" 19X HD
Battery 4900mAh
AC adaptor
AC cable
HM360 CMOS 1/2.3" 19X HD
Brochure

JVC_GY-HM360E_Brochure.pdf
General Features