New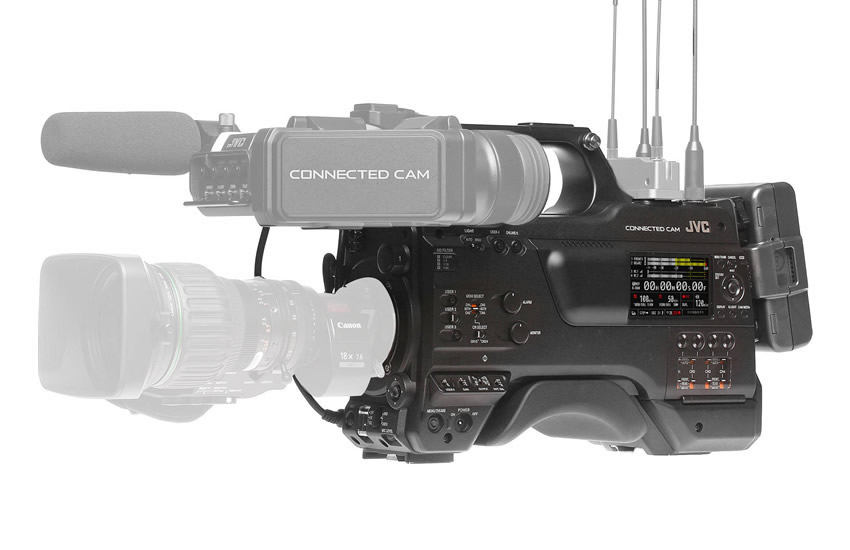 HC900 3CMOS 2/3" HD Body
Special Price
Not in stock
Quick Overview
Shoulder/Studio Camera
MPEG4/H.264 MOV/MXF Files
4:2:2 10bit Full HD up to 50Mbps
Broadcast Streaming quality- Zixi
3CMOS 2/3" 2.2MP - F13 Sensitivity
SD-HC/SD-XC x2 - Recording/Streaming
3G/HD/SD-SDI IN/OUT & HDMI Output
68pin Connector for Fiber/Multi adapter
HC900 3CMOS 2/3" HD Body
The camcorder features JVC's latest IP communications engine, giving you remote control and monitoring of vital camera and lens functions from a tablet, smartphone, or computer anywhere in the world. Live streaming is possible in HD or SD resolutions, depending on available bandwidth. Connect your camera to an optional Wi-Fi or 4G/LTE modem and share your programme with an audience anywhere in the world via content delivery networks such as YouTube, Facebook Live, and other cloud services.

Features
TENTATIVE Information, Pictures shown with optional Equipment
GY-HC900CHE comes without LENS!
Three advanced 2/3-inch CMOS image sensors for high sensitivity: F13 @ 50Hz (extended mode)
Industry standard B4 lens mount
50 Mbps 4:2:2 10-bit recording (H.264)
Signal-to-noise ratio 62dB (standard)
HDR (High Dynamic Range) (Hybrid Log Gamma)
1080p slow motion recording (120fps)
Records Sports Exchange Standard formats (1080/720p)
Standard MPEG-2 recording up to 35 Mbps
Return video (IP or SDI)
Built-in Wi-Fi (2.4GHz/5GHz), high speed MIMO with dual external antennas
USB host for network function
Ethernet LAN (RJ45)
Advanced low latency (<500 ms) streaming up to 20Mbps (H.264)
SMPTE 2022 forward error correction
Zixi error correction with automatic repeat request (ARQ)
Stream camera or pool feed signal
Remote control (via direct connect or network)
Direct connection (68p) to fiber module
Slot for future expansion
Slot for wireless audio module (UNISLOT)
Progressive FTP for transfer of live video
IFB audio AAC
Remote control via web browser or RM-LP100
3G-SDI input for pool feed
3G-SDI (x2) outputs
HDMI output
Genlock input
DC Power out connection (x3)
Dual SDXC media recording
Time code IN/OUT
XLR audio input (x3) and output

EXTRORDINARY CAMERA PERFORMANCE
The heart of the GY-HC900 is a production-quality imaging system that begins with a B4 mount lens. The camera adapts to a variety of lenses and automatically corrects for aberration. Three 2/3-inch CMOS sensors, combined with an F1.4 prism, produce full HD images with excellent sensitivity of F12 at 60Hz (extended mode) and a high SNR of 62dB (standard). JVC has paid particular attention to dynamic range and provides an HDR mode for expanded creative expression.

A 4-position optical filter compensates for a variety of lighting conditions. Positions are: 1 (clear), 2 (1/4 ND), 3 (1/16 ND), and 4 (1/64 ND).

MEMORY CARD RECORDING
Dual memory card slots are provided for standard SDHC/SDXC media. Flexible recording options include redundant, relay and backup modes. The GY-HC900 supports both the popular MPEG-2 35/25Mbps format, widely used by television broadcasters, and the more efficient .MOV H.264 format capable of delivering production quality 1080/60p 4:2:2 10-bit recordings. In this mode, recordings can be made at frame rates up to 120fps for ultra-smooth slow motion effects. The camera also records proxy resolution video clips for off-line editing or on-line posting.

THE INDUSTRY'S MOST CONNECTED CAMERA
JVC has taken connectivity to the next level with the GY-HC900. The camera incorporates a new processing engine that enables recording and low latency streaming, and simultaneous decoding for return video and IFB. Talent in front of the camera can engage in a 2-way interview with return video and audio while streaming live to air—all of this without any external boxes or backpacks. Depending on the mode, latency can be as low as 500ms for both outgoing and incoming video. Cellular bonding takes place with the optional snap-on SFE-CAM module, or with a Wi-Fi connection to one of our bridge units.

The GY-HC900 is equipped with Multiple-Input Multiple-Output (MIMO) Wi-Fi technology for high speed, long range communications.

For studio and EFP operation, JVC offers the flexible FS-900 camera module which attaches directly without cables and feeds a 3-in-1 base station.
HC900 3CMOS 2/3" HD Body
STATUS

Status

Camera Type

Shoulder Camera


Studio Camera


HD Camera


CAMERAS-SXETIKA

Camera options

VIDEO SPECIFICATIONS

Video Format

MPEG2 Long Gop HD/SD up to 35Mbps - 4:2:0/8bit - MXF/MOV files


MPEG4/H.264 HD up to 50Mbps - 4:2:2/10bit - MOV files


Video Resolution

SD 576i PAL(16:9)


HD 720: 1280x720pixels(16:9 aspect ratio)


HD 1080: 1440x1080pixels(4:3 aspect ratio)


HD 1080: 1920x1080pixels(16:9 aspect ratio)


Slow Motion

Quick Motion - Time Lapse

Frame Rate

24P/25P/30P/50P/50i/60P/60i/100P/120P @1920x1080Pixel
50P/60P @1280x720Pixel
50i @720x576Pixel


Rec Media

Simultaneous REC

Rec Time

213min @35Mbps with 64GB REC-Media


148min @50Mbps with 64GB REC-Media


Pre Record

LENS SYSTEM

Sensor Type

Sensor Size

Sensor Resolution

Lens Type

ND Filters

CONNECTIONS

Video inputs

Video outputs

3G/HD/SD-SDI (BNC)


HDMI


CVBS(BNC)


Audio inputs

3-PIN XLR MIC/LINE


5-PIN XLR MIC/LINE


Audio outputs

Jack 3.5mm Stereo


2CH Embedded Audio SDI


2CH Embedded Audio HDMI


PC Connections

USB3.0 Host


Ethernet RJ-45


Other Connections

TC IN (BNC)


TC OUT (BNC)


Genlock input (BNC)


RCU Connector


68pin Connector for Multi/Fiber Connection


GENERAL FEATURES

HDR (High Dynamic Range)

Shutter speed

Video S/N

Sensitivity

Streaming

Web Live Streaming with internal engine


File Transfer

LCD

Viewfinder

MORE SPECIFICATIONS

Extras

Broadcast quality video over IP.
Return Video over IP & IFB.


Power

G-Lock Type Battery


4pin XLR DC input


4-Pin XLR DC output


D-TAP output


No. of battery slots

Power Consumption

38W(14.8V/2.56A - 12V/3.16A)


Warranty

Country of Origin

PHYSICAL

Total Weight (KG)

Total Dimensions (WxHxD) (mm)

Availability

Usually in 15working days

HC900 3CMOS 2/3" HD Body
Brochure

JVC_GY-HC900_Brochure.pdf
General Features

JVC GY-HC900 Review
JVC GY-HC900 Review 2